WIN a FREE 1 hour booking in a deluxe suite of your choice ( Valued at $450 ).
Leave a review and contact us HERE, to notify us that the review is yours, to go in the draw.
Every month, on the last day of the month, a winning review will be drawn.
Winner will be notified discreetly via the email address you provide.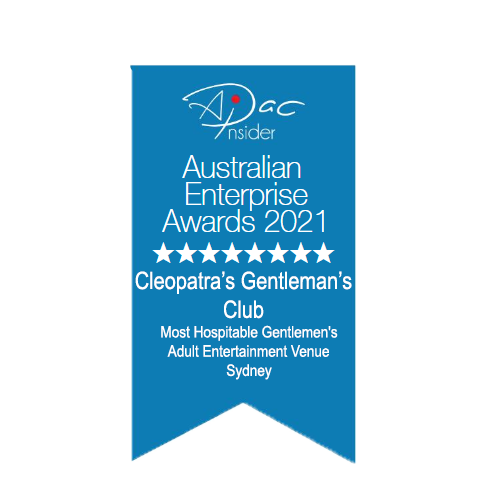 NSW BROTHEL OF THE YEAR
2016, 2017, 2018 & 2019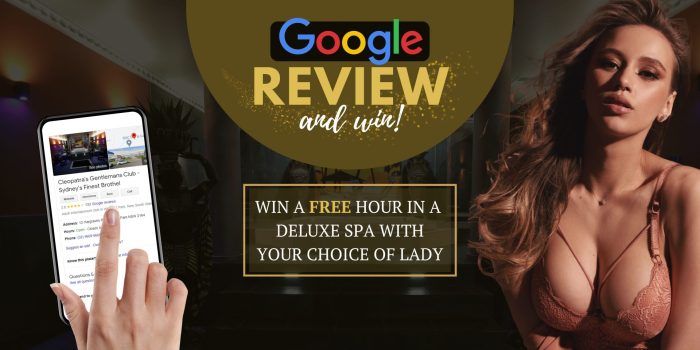 A. Pack
Kamilla was amazing so sexy and kind and just makes you feel welcome.
D M Media
Melody is the best, sweet nice and positive vibes. I really like her, I will be back to see her soon !
A. Reddy
The best place in town!
Excellent service
Best in Sydney
Naughty Ads Support
Hot. Sexy. Fun. What more could you want!
Bobby. D
Delightful, cheerful and very helpful secretaries! And the gorgeous ladies! oolala!!!! I can't get enough as there's so many gorgeous, sexy, down to earth glamours who enjoy pleasing their clients to choose from, I've decided to have pleasurable rendezvous with them all!!! Thank you very much ladies! AAAAAA++++++
Luke Snedden
Very high class, wouldn't go anywhere else and the best girl there. Ella was AWESOME, made me feel very comfortable and amazing of what she does to me, now when I go, I'll always go for her.
K1ng S3al
The experience I had was amazing the girl I did it with was gorgeous and made me welcomed and was gentle and the hygiene at the place is good as well.
M. Siraz Ali
Booked Bree beautiful had a wonderful time. Had a small issue not with Bree. Natasha got involved she managed to resolve the issue very quickly thx Natasha!
Mi Ki
The best place in town!
S. Lame
What can I say, this is THE place to burn your hard earned cash!
Miguel Blanco
Have to say this is one of the greatest places of all time. So great that I've spent about $7000 In total. You're probably thinking how much of an idiot I am but honestly that $7000 was worth every penny. I honestly would rather spend most of my hard working money here than a Vacation to Paris.
Kristian Ilievski
The place is mad and fancy as, makes you feel like a king. The suites are hectic and the girls are wow and always aim to please you. All the girls are weapons and a good sort with good personalities. Has to be the best place to go to in Sydney for sure!
Will W
I've been visiting Cleo's for years and I've never been disappointed with service and the amazingly hot ladies 🔥😍 at this amazingly clean high class establishment and it looks a whole lot better with the new renovations been done to the building. My favourite girl is Bree and I will be coming back soon to treat myself again 😊 . And just an idea 💡 it would be cool if Cleo's did Netflix and chill in the rooms😃. 5️⃣⭐️
Punter B
Visited a few times in the last year & it's always amazing.

Facilities: Both on & off street parking with some dedicated off street disabled parking, intamte private meeting rooms, recently renovated bar, & clean & comfortable rooms & suites. Spas included in some suites, check the website for details. Reception are always welcoming & helpful.

Ladies: A pretty wide variety of ladies that are all exclusively stunning. Genuinely, some of the most beautiful women I've ever met. The few I've spent time with have all been lovely, kind, & charming people as well. Services offered vary but all have made our time memorable. From my experience the pictures on the website are accurate.

Overall: I'd highly recommend this establishment, especially if you're a first timer. If possible check the roster on the website & call to book a lady for your desired time. The days I've walked in without a booking there were several ladies available but I've heard it can get busy & you may need to wait.
Ballz Znall
Absolutely amazing.. Jamila is the best receptionist ever she always makes me feel welcome and last night she hooked me up with the girl of my dreams, it was an amazing experience the lady I was with treat me like a king and I went to another planet. Don't bother wasting your time with any other establishments this place is simply the best in the business. 🏆 🔥💦
Double Dees
Wow what a line up they had on Friday night. 16 gorgeous ladies, made my choice so difficult. What a difference Covid has made for this establishment you walk in and you feel like you are in a 5 star venue. Must be new owners as I didn't hear and yelling!! Chose Paris stunningly gorgeous girl and amazing service definitely be heading back there in a few weeks!
Dan. G
Wow what an establishment someone has renovated this place. Biggest selection of gorgeous women anywhere in Australia

Love how some of the bad reviews on here have suspect names and no other reviews, means they're fake reviews. I guess the other establishments are jealous that Cleo's owners are making it the Best gentleman's club in Australia. They had 15 girls available on Saturday night, mind blowing.
Mike Beggos
I finally Came in after not visiting for a long time and all I can say is amazing ,the new bar and reception area is 6 star now ,it's something you would see in a top hotel and then to top it off the best array of girls anywhere I have seen in a long time, big thank you to all the staff. My new favourite place!
Fardin Ahmadi
To be exact the only reason this place shine is because of a super model sun hot girl called Nicola. For all my friends out there , I really don't think I've ever met someone as perfect as her.
Daaaaaaaaaaaaaaaaaamn gal!
Sau Attanayake
Went in after multiple recommendations from friends and was blown away by the quality of service. Will definitely come back soon.
Fabz A
I used to come here every now and then before the lockdown. After almost 4 months of restrictions, I came in and my heart skipped a beat. The new set out of the place was amazing and that includes the lovely bar. You can tell the management has initiative and ambition judging from the renovations that took place during lockdown. Hats off to the owners and the management for that. As for the ladies, they are still smoking gorgeous and never fail to disappoint. Highly recommend.
G Jacqs
Cleos is a top place, always good ladies working and the friendly receptionists that recommend the best.
Ive had the pleasure of seeing Kitty multiple times now who's the cutest little babe.
Such a sweetheart with a cool vibe and down to earth. An all round top chick. 😍👍👌
Andy M
Been to plenty of places but this one ticks all the boxes. From friendly receptionists and stunning ladies to an amazing venue with great rooms, I don't regret coming here at all. You'll definitely see me again.
Ke Vooo
Great friendly service from reception staff as always. Kitty is absolutely amazing and wonderful. 5/5 review
28.04.21 Shyam Thapa
Awesome establishment, best one I've been to. Always greeted nicely by reception, Winnie (the receptionist) always greets me with a nice smile every time I visit, pretty sure she knows what type of girls I like lol.
Got various girls to choose from, especially every Friday and Saturday nights. All the suites & the mirror room are worth it.
21.04.21 John K
Cleopatra has outstanding, clean premises with gorgeous ladies. I had the pleasure of spending an hour with Fernanda who spoke about what I wanted & delivered a loving unrushed service that made my day. 10/10
14.04.21 John Dong
Very welcoming service by the staff, interior decoration was very nice, and the girls are absolutely gorgeous. Serviced by the lovely Nikita, she is an gorgeous girl with a great personality. Literally bang for buck!
23.03.21 Ian Wilton
Staff were friendly and accommodating. Place was neat and tidy. Ladies... oh my. Ticks all the boxes, 10/10
22.03.21 Alec R
Good place to be at after work. Lovely stuff 🙂
18.03.21 Fabian R
Definitely coming back. Amazing establishment with very kind receptionists and attractive ladies.
17.03.21 John
Incredible place with great staff/girl. Constantly exceeds expectations every trip and the only girl I see is Grace and couldn't find words to describe her and her service but I'll do my best. Lovely from start to finish every time. Goes above and beyond to make sure every meeting is exciting, pleasurable and memorable. Not to mention the ear to ear smile is infectious. Lovely person and couldn't recommend her highly enough. Also the staff put you at ease and are extremely accommodating and understanding first timers have nothing to fear. Great Awesome 10/10
13.03.21 Victor C
One of the most well run establishments in Sydney. I've been here a couple times and the level of professionalism from the management and the girls is outstanding. The girls are all young, good looking and have real personality behind them that you can get along with. They're not there just to grab your money. They are there to show you a wonderful experience. Something that you can't get anywhere else. I ask the girls exactly the night that I'm looking to have, and they all fulfil it the way I wanted to be. Every time I leave after a visit, I always want to turn back and go back for seconds! Thank you to the girls at Cleopatra's and the management!
09.03.21 Sammy B
Great place. Plenty of attractive ladies to choose from and I'm looking forward to coming again.
10.02.21 Simon
Awesome establishment, best one I've been to. Always greeted nicely by reception, Winnie (the receptionist) always greets me with a nice smile every time I visit, pretty sure she knows what type of girls I like lol.
Got various girls to choose from, especially every Friday and Saturday nights. All the suites & the mirror room are worth it
16.02.21 Saeed khademi
Fantastic service, respectful girls.

13.02.21 Berrima Diesel Services
The best in the business

10.02.2021 Ben Goodwin
The best blonds with blue eyes, Bree was amazing.. perfection. And affordable. I won't go any else again highly recommend Cleopatra's Gentleman club
09.02.2021 John robert Jackson
Could not ask for a better Friday night seen bree she is so breathtaking and welcoming an hour in the best suite is not enough time everyone that works there are amazing will be back for sure thanks girl's

04.02.2021 Simon
I've seen Jordyn & Ava, both are definitely worth the booking, definitely will book them again without a doubt

03.02.2021 Martin Dominello
Love this place. Great ladies and awesome rooms.

31.01.2021 J Ed
Without a doubt the best service. Came down there and the receptionist greeted me well. I was introduced to the girls and they were all lovely to talk to. One thing that I like it about here is that you see girls from a variety of nationalities including Europe and South America. Will definitely come back for more 🙂
24.01.21 Joey A
Fell in love with this place in a heartbeat. It really has exceeded my expectations and was worth every dollar. I hear they always bring new girls in which is pretty exciting

15.01.21 Dan Henry
After browsing their site and social media I decided to make the trip. When I arrived I was greeted professionally and shown to the waiting room. Meeting the girls was easy and then made my way to a clean and nicely decorated room. Cleopatras is discrete, professional and has beautiful ladies. Great time and I'd be happy to return.
30.12.20 Joseph B
If I could give a 6 star rating, I'd definitely do it. Offers the best service and has the most beautiful ladies. Can't wait to be back here again.
16.12.20 Charlie T
I am a regular visitor who always enjoys the pleasure and company of the many attractive ladies at this venue. I think they are very selective in who they employ, as I do expect, at the prices I am paying, to only have to choose from stunning ladies who provide an exceptional service, and they never fail.
Thanks for some beautiful memories.
15.12.20 Simon
Awesome visit with AVA tonight, definitely worth the booking. Will see her next time
14.12.20 The Fadz
A hidden gem! Unbelievably kind from reception to the models. Normal & special rooms are awesome the bar is MAD AS!
Nothing is more respectful than the discrete waiting rooms so awesome.
Never ever had a bad experience and every single girl has made me feel comfortable and welcomed. In the most positive way to put it it's kind of like a sanctuary for me to indulge enjoyably.

Just two little things it's always freezing in the normal rooms between shower and bed...aircon is often a bit too high.
& Hats - maybe lift the no hats until one is in the booking or organsing a booking 😂😂😁 mad love catch y'all soon. For some of us it just eases us as discrete is a preference.
20.11.20Nay Nay
Had an amazing time with Grace. Kept me entertained every minute and really know how to work with men especially shy ones lol..
10.11 Joe S
Took a mate with me (first-timer) and he absolutely loved it. Very pleasant experience indeed. Will be coming back again 🙂
31.10.20 Joseph Peters
Well renowned and live up to their reputation. Girls provide an amazing service and they have just gained a new regular.
29.10.20 Matthew Nowak
Visited for first time and have to say the ladies at this venue really are top shelf. Gorgeous.
17.10.20 Steve Ashton
This place has some stunning ladies. Have been a regular for many months and have always enjoyed the experience. Cheers.
14.09.20 Franz W.
Made a booking to see Skye on Friday night. Couldn't resist after seeing this ladies gorgeous photographs on the site. She is way more attractive in person. An absolute blonde babe with a body to die for. Had a great time and can't wait to book again.
05.09 John E
Visited Friday night and was blown away. Venue was off tap. Staff at the front were nice. Even the cleaner was hot. But the Ladies working are next level. My Lady was hot and made me feel like a king. If I had deeper pockets I would have stayed all night. Will be bringing a few of the lads with next time soon.
02.09.20 Gino R.
Five stars. Nothing less. If you want the best, it's the ladies and service at Cleopatra's !
30.08 Adam Omari
I came in the other day & saw the beautiful Lebanese girl called Valentina & booked the new mirrored suite room. Absolutely fell head over in heels in love with her & her exotic & erotic service will be definitely coming back to see her as she made me feel like a king after a hard week at work.
30.08.20 Matthew D.
Been a regular visitor for just over a year. Really recommend this venue. Nice modern place and attractive and attentive women. Ignore any fake bad reviews about this place, they don't match the experience to be had & have probably been written by jealous haters. It pretty obvious actually, when you read them.
27.08.20 Robbo New
Some really good sorts at this place. This is the place to go to when you know you get what you pay for 😉
23.08.20 Danny Jones
Nice venue and good looking ladies. 10/10.
23.08.20 Jason Mickey
First time visiting this venue this weekend and I had a fantastic time. Ladies are really good looking and friendly. Nice modern venue too. I am looking forward to visiting again soon.
19.08.20 Thomas Who
Love this place. Hot babes and good times.
18.08.20 Nick
Alana is a must!! But most of all the service is only as good as the profesional and quality and clean enviroment you're in.
⭐⭐⭐⭐⭐ Yes 5 stars.
Having respect for the lady you choose will give you a connection which will deliver the quality service in return.
Alana will be the girl for you!!
18.08.20 Andy R.
Have been living only a few suburbs up from this venue for several months and decided to make the plunge and visit last Saturday night. One of the best experiences I have ever had, and should have done it sooner. Thought I needed to make a booking before arriving, but friendly receptionist on phone advised I am welcome to walk in and just meet the available ladies. Spent time in the Imperial Suite, would have thought I would have to go to the City to get rooms and an experience as classy as this. The ladies here are very pretty and its a fun vibe. Do yourselves a favour.
16.08.20 Bill Waters
I've been a regular visitor for years. That's the best feedback and compliment I can give you 👍.
16.08.20 Mitch B.
Really hot ladies and nice classy venue. Had a great time with Yazmin. Enjoyed my stay. Cheers !
15.08.20 Steve O.
First time here. The only downfall is that every lady is hot and your wallet can only choose one haha. Just spent an hour with Dakota. Where do is start.... reminds me of all those hot girls in Playboy magazine when I was young ha. This lady is the whole package. I will def be returning !
13.08.20 Mike Woods
Visited mid week and was suprised to see so many lovely ladies on during the day. Recommended by a friend who has been coming here for quite a while. The venue is really nice, and reception were really friendly. The lady I chose was a real gem, and I had a really good time here. Nothing was rushed and the lady was really getting into it. My only regret is that an hour goes by so fast when you are having so much fun!
10.08.20 Tom D.
This place is really something. Modern rooms, friendly staff and hot women. Thanks for making me feel welcome.
09/08 Steve H.
First time visitor. All the ladies were good looking, and was made to feel really welcome. Spend an hour with the gorgeous Sara. You are one exceptional woman ! Thank you for making me feel like a King for a day.
06.08.20 Gary Andrews
Vada - where have you been all my life ! All I wanted to be happy was a slim sexy blonde German goddess and I found you 🙂 Thank you Babe. That was the most fun I have had in a very long time !
30.07.20 Grant A
Thurs 30/07 4.30 AM

Staff: Friendly and accommodating. A welcoming experience was had. Clients will feel comfortable, relaxed and well taken care of. Venue: Clean and presentable. Clients will instantly notice the difference between a top-end establishment vs a standard run of the mill joint. The space, luxury and comfort is well worth it. Experience is more like being in a fancy hotel.

Giuliana: In a different era, rulers would wage war to win your heart. You have ruined me for other women. Fallen in love with those eyes and smile of yours. The experience will stay with me forever. Would wife you in a heartbeat.

Sold as a repeat customer after 1st ever visit to Cleo's.
27/07 Kurt Swift
Professional establishment. Quality woman that make you feel comfortable no matter who you choose. Guilana is in a league of her own. Best money/investment I've ever spent. I wouldn't even consider it spending. I wouldn't blink an eyelid paying whatever the cost is as you can't put a price on perfection! One thing I do have to say, is Catalina needs to make a return! Book me the Mark Anthony suite any day of the week with them 2. Would be the best 2 minutes of their lives 😂. All seriousness, quality establishment. Highly recommend to anyone. Glad its back open after COVID 19 haha
15/07 Habib27
Julia. 😍😍😍😍 absolutely gorgeous
02/07 Jay W
Cleopatra's sky rocketed my expectations. This place is so beautiful, so clean, everyone is so nice and the girls are super stunning!!! I booked for 1hr Mark Antony Suite and I promise you it is worth every cent. I've never felt so comfortable and joyful and i can't stop smiling. I can't wait to go back, you guys have scored a loyal customer.
27/06 Steven j Papa
Been comming here for over a year the girls are atractive especially the gorgeous 10 marlena who has been my regular girl that iv been seeing every time owner and staff are verry welcoming and friendly by far the best iv been to highly recommend to anyone wanting to have a good time
30/03 John Thimakis
A first class professional establishment with polite staff and top notch girls. You get what you pay for.
02/03 B Redford
Some really HOT ladies here. First time visitor but will be back !
02/03 Bradley C
Visited this venue for the first time today. Totally blown away by the state of the art rooms and the quality of the ladies. Reception make you feel welcome from the moment you walk in, and the workers / ladies are really attractive. Found it hard to decide who to spend time, but chose Dakota who is an absolute dream girl and left me with a smile on my face.
21/02 Dude that never cums
Out of every place I have been to this has to be the best. Reception was friendly and a delight to talk to. Fernanda was my poison which oddly cured my bad groove I have been having this week. She was very friendly and very keen to satisfy any desire I had. Oh and trust me she was hot af. Top notch service.

P.S Never cam if your wondering ....the challenge to make me nut still has yet to be completed XD.
21 / 02 Toto Villi
Such nice girls and huge selection. Rooms large with high ceilings and comfy big bed
I'm very impressed.
16 / 02 Sheriff Jalloh
Good place great service
10/02 Michael K.
This place deserves a minimum 5 Stars 🌟, for a guy like myself who has never been able to attract women in his life this is a gem of a place to go to, the reception people are wonderful , girls are wonderful , establishment wonderful cheers 👍
Ray G
Stunning ladies. Was really impressed by the quality of the ladies and the venue.
Simon
Great service from both receptionist & the girls. Should hire few more black girls
Vincent V.
Quality Women, the whole place is clean and just incredible to look at. What a Luxury, when I'm back in Sydney I'll have to become a regular. One of my best experiences so far
Lester W.
High Class, Luxury Place. The interior is spectacular, the ladies are friendly, sexy and very mysterious. I Love the Variety and how lovely they are when they greet you. This is definitely 5 stars service and I can not wait to be back. Keep it up Ladies you are a Dream.
15.01 Dan Henry
After browsing their site and social media I decided to make the trip. When I arrived I was greeted professionally and shown to the waiting room. Meeting the girls was easy and then made my way to a clean and nicely decorated room. Cleopatras is discrete, professional and has beautiful ladies. Great time and I'd be happy to return.
Terms and Conditions 
The total retail prize value is $230 (AUD).
The Voucher is offered by Cleopatra's Gentleman's club ("Cleopatra's").
The Voucher is available for use only by Australian residents over the age of 18.
The Voucher is not exchangeable for cash or other forms of credit and no refunds will be issued for the value of the voucher if bookings are cancelled or altered. All costs above the value of the voucher including any change or cancellation fees are the responsibility of the customer
Notification and claiming the Prize. Following the Prize draw, the winner will be notified using the contact details provided by the Entrant. The winning Entrant has 48 hours from the time and date of the notification being sent to respond, provide proof of eligibility and claim the Prize. If the Prize is not claimed by the winning Entrant within this time frame, the Prize will be redrawn and any previous winners will forgo all claims to the Prize.
The Voucher is valid until 4/04/2021. The Voucher must be redeemed by the Expiry Date as stated at time of draw.
All bookings are subject to availability at the time of booking and at discretion depending on level of occupancy. All applicable booking terms and conditions apply to the Voucher and Ladies availability.