How to reach your money goals in 2022!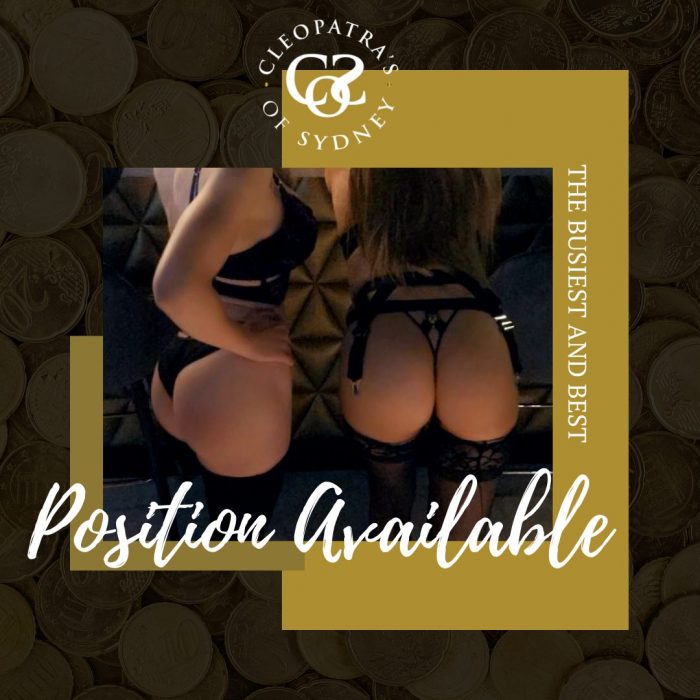 We completely understand why you'd want to have a better, more profitable year compared to 2020 and 2021, especially with the expense of living increasing.
So we have one question for you – have you thought about working in the Sydney adult industry?
Whether you're saving for a holiday, first home or moving out, getting rid of financial stress and debt or looking to try a new venue, we've got you!
Sound interesting? Just keep reading…
Sydney's busiest brothel, Cleopatra's of Sydney, is now under new ownership and busier than ever!
ADDITIONAL 5% FOR ANYONE WHO WORKS 4+ SHIFTS! No other venue offers this!
Make anywhere from $6,000 to $15,000+ per week, working the shifts you choose to suit your life and work balance!
Better yet, we also off our ladies off-site accommodation in a spacious, modern townhouse 8-10mins away!
Are you 18-30 years of age, size 6-12, attractive and confident?
Like sex, dressing up and having fun?
Be punctual, professional and responsible?
That's all you need to start making massive money!
Make more money than you have ever made before whilst enjoying the lifestyle you deserve!
Ask us about our income guarantee – where we guarantee what you will earn! NO OTHER SYDNEY VENUE WILL DO THIS.
Don't waste your time with other venues who are nowhere near as busy or as professional as we are! Start with the best adult venue in Sydney!
Do not risk your safety by working privately with escort companies. We can ensure your safety 24/7, security, money paid in cash after each shift and REAL clients that you meet before doing anything. Better yet, you are not required to do Passionate Kissing for free – you should be able to choose and can charge extra for that!
Need more convincing?
– We have completed exciting renovations of the Reception and Introduction Rooms, with further changes happening for the Lady's Rooms and Room/Suites. It'll be like a completely new, modern and highly exquisite establishment.
– Of Sydney, the wonderful new owners of Cleopatra's, also own Centrefolds of Sydney and Secrets of Sydney. So whether you'd like the option of rotating and trying out new venues, want to start with erotic massage first before full service, our all female team are here to help you make the most money at each venue and guide you with support along the way.
– Our Sydney adult work opportunities and jobs are open to all local, interstate and international ladies.
– A bit nervous about coming alone? Don't worry, if you bring a friend or refer someone and they complete 10 shifts, you get $500!
PLEASE TEXT OR CALL MANAGER NATASHA ON 0474112736 OR APPLY ON OUR WEBSITE TODAY UNDER OUR WORK FROM HERE PAGE.